Login - Security Features Overview
Increase protection against password scams
The CWBdirect online banking login includes special security features that help protect you from password theft or phishing.
Login to CWBdirect online banking securely from any computer
While you can access the CWBdirect online banking site from any computer, it is important to remember that some computers are more secure than others.
When you set up your security features, you can designate a computer you will frequently use to do your online banking and our system will remember this computer. While you can designate more than one computer as a "trusted computer", we recommend you register computers where you are the sole user (e.g. your home PC or personal work PC).
To register a computer:
After entering your account number on the Login page of CWBdirect, you will be asked to answer a security question. Below the security question is the section that allows you to register your computer. By correctly answering your security question and checking "Register This Computer" you will be able to bypass the security question the next time you login from that computer. You may register more than one computer.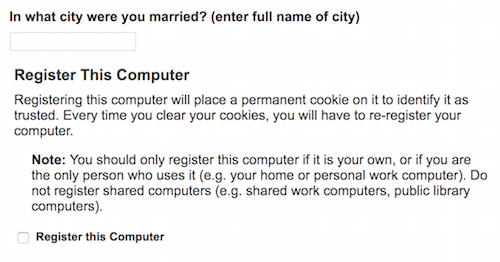 When you login from a computer you don't normally use, such as from an internet cafe, hotel or other public computer, you will be asked one of your security questions. Because you have already told our system the answers to your questions, responding to the security question will be easy for you but difficult for anyone else.
Always remember to log out and close the browser upon completing your online banking, whether at home or on a public computer.
Don't be a victim of phishing
"Phishing" is the creation of e-mails and websites that replicate existing, genuine websites and businesses. These sites try to lead you to believe that the requests for information are coming from a legitimate source, thereby scamming you into providing personal, confidential information that can then be used to commit other crimes.
If you are asked for your personal access code and do not see your security image and phrase, or are not asked one of your security questions, you may be on a web page that has been designed to steal your personal information.
Unsure if you are on a legitimate CWB website?
If you are on a web page or receive an email that you think may be fraudulent, forward the web page or email to phishing@cwbank.com.
Shut down your computer immediately, restart and enter the CWBdirect online banking URL directly into your browser: www.cwbdirect.com.
Proceed with logging in from that page.